"Let us
protect
creation"
"I would like to ask all those who have positions of responsibility in economic, political and social life, and all men and women of goodwill: let us be "protectors" of creation, protectors of God's plan inscribed in nature, protectors of one another and of the environment. Let us not allow omens of destruction and death to accompany the advance of this world! But to be "protectors", we also have to keep watch over ourselves! Let us not forget that hatred, envy and pride defile our lives! Being protectors, then, also means keeping watch over our emotions, over our hearts, because they are the seat of good and evil intentions: intentions that build up and tear down! We must not be afraid of goodness or even tenderness!"


"Here I would add one more thing: caring, protecting, demands goodness, it calls for a certain tenderness."
______________________

GSTV Content Providers:
Building Bridges Project (Assembly of Western Catholic Bishops); Madonna House Apostolate, Combermere, ON; Passionists of Canada; St. Gabriel's Parish, Willowdale, ON; Institute of Theology and Ecology, University of St. Michael's College, Toronto); Saskatoon Diocese (Benedictines of Muenster, SK, Farmland Legacies, Prairie Garden Seeds, Inter-Church Uranium Committee Educational Cooperative); Sisters of St. Joseph of Canada; Scarboro Missions; Sisters of Providence, St. Vincent de Paul Province, Kingston, ON.
GSTV Financial Contributors to date:
Religious communities: Congregation of Notre Dame; Oblates, Lacombe Province; Sacred Heart Sisters, Ottawa; Scarboro Missions; Sisters of Charity, New Brunswick; Sisters of Charity of St. Louis, Calgary, AB; Sisters of Mercy, Newfoundland; Presentation Sisters, Newfoundland; Sisters of Providence, Holy Angels Province, Edmonton, AB;
Sisters of Providence,
St. Vincent de Paul Province, Kingston, ON; Sisters of St. Ann, Victoria, BC; Sisters of St. Joseph of Canada; Sisters of St. Joseph of Toronto; Sisters of St. Martha, PEI; Spiritans; Ursulines, Chatham.
Dioceses: Corner Brook and Labrador, Hamilton.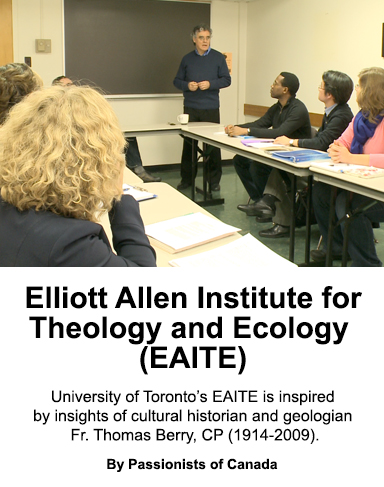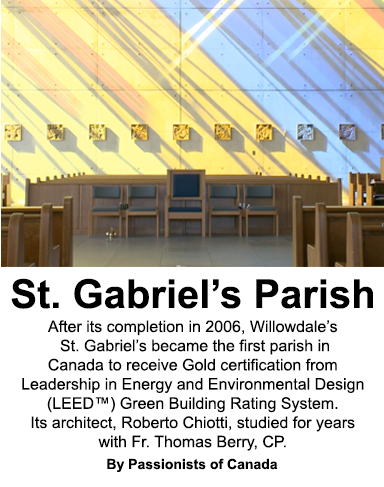 Green Spirit TV


Assistance from Archbishop Donald Bolen, Chair of the Justice and Peace Commission,
Canadian Conference of Catholic Bishops
Watch the videos below! Check out their lesson plans!

Each of the program squares link you to a video and its lesson plan.