In addition to hundreds of client-commissioned DVDs produced for educational and health organizations, Deme also co-produced, directed and shot the following independent TV projects.
2007-16 RomanCatholicTV & GlobalVillagersTV
Online educational videos and lesson plans.

2004-07 World Class
The story of young Canadians becoming involved on the global stage as volunteers in the Canadian international development movement. 6 half-hour TV series. Canadian Learning Television.
2002 Olive Dickason's First Nations (one hour drama documentary)
The story of Olive Dickason, Metis, academic historian and author (The Myth of the Savage, Canada's First Nations), and her struggle to give academic legitimacy to First Nations history. 60 minutes. Broadcasters APTN, VTV, W, BC Know TV, Saskatchewan Communications Network.
2001 A Woman in Love
The story of Catherine Doherty, founder (1948) of the Madonna House movement, a male-female religious community specializing in rural and inner city poverty issues and now flourishing in more than 30 countries. 90-minute drama documentary.
2000 New Times Drama (12 x five minutes)
Students come together to tell their stories through drama. Highlights include issues of bullying, gender and racial intolerance at school.
2000-03 Global Villagers (26 half-hours)
Examines the work of Canadians in the developing world building peace and partnership. 26 half-hours. Vision TV, Alberta Access, Canadian Learning-Television, iChannel.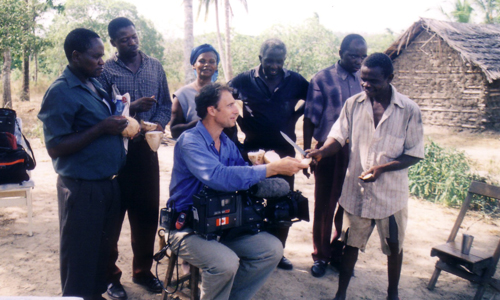 1999 Project Millennium
Explores social justice history and current contributions of Canada's religious communities. 18 half-hour parts. Vision TV.
1998 Welcome the Stranger
The Canadian story of faith and refugee advocacy/ resettlement. 5 half-hours. Vision TV.
1997 Holy Land, Holy People
Explores the three Abrahamic faiths (Judaism, Christianity and Islam, shot on two location shoots in Israel as well as Canada). Broadcast on Vision TV, re-packaged for grade 12 world religions curriculum, purchased by several foreign networks. 6 half-hours.